When you attempt to log in to Steam, do you get the message "Error Code e84" The complete error message is as follows "Something went wrong when signing you In." Then "Please try again."
After a recent Steam update that changed the sign-in UI, the problem alert appeared. This Guide will explain an "Error Code E84 steam" number on Steam and How To Fix Error Code e84 Steam? Quickly and easily.
What is Steam Error Code e84 Steam?
You have difficulty signing in when you get the Steam error code e84. The latest Steam update is the reason for the issue notice. The update makes it easier to play with friends and includes a new sign-in UI.
This includes the option to search for someone using their nickname or character. Additionally, remote play, in-game overlays, and Steam Cloud received minor updates and Fixes.
Many people complain about the error code e84 Steam problem on Twitter, YouTube, and other social media platforms.
Let's see how to fix error code E84 steam if you also face this problem.
How To Fix Error Code e84 Steam?
The Not Responding Team recommends you restart your computer once, then try again later to resolve Steam error code E84. 
Try rebooting the system, as this usually resets background processes and fixes minor concerns. The following critical step is to confirm the current Steam server status.
If the servers are offline for any reason, the problem will be resolved immediately when they come back up. If Error Code 233011 still occurs after restarting your computer and ensuring the Steam servers are working, you can try the steps below.
1. Change Your Steam Password
The first thing you can do is reset your Steam password and then see if the error code E84 steam is gone. Do the given steps for Fixing the steam error code:
Log in to your Steam account on the Steam website.
Click on your profile name in the top right corner of the screen.
Select "Account Details" from the drop-down menu.
Click on the "Change" button under the "Password" section.
Enter Your current password.
Enter the new password you would like to use. Re-enter the new password to confirm it.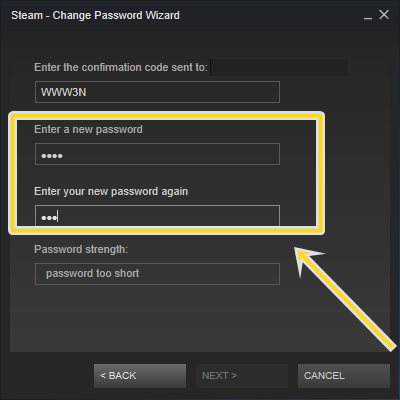 Click on the "Finish" button.
Your password will now be changed. Make sure to use a strong and unique password for added security.
2. Edit the launch parameters
By changing the Steam Launcher option, some users have been able to fix the Steam error code e84 problem.
Make a desktop shortcut for the Seam application.
To make your link seem like "X:…Steam.exe," add noreactlogin" in its properties, go to the Target box, and put up "-noreactlogin."
When finished, open Steam by clicking this link.
In this manner, Steam will launch the previous login page, and the steam error code e84 won't appear on your Steam client.
3. Update The Steam Client
If the software is not updated, it can proceed with the Microsoft Error Code 80180002, resulting in problems similar to E84. So, make sure to update to the most recent version. Updating Steam:
Open the Steam app.
In the upper-left corner, tap Steam.
Click "Check for Steam Client Updates" to upgrade Steam.
4. Check The Date and Time on Your Computer
If you set the wrong date and time on your computer, you might not be able to connect to the Internet. 
This is because your Internet service provider (ISP) might misidentify your device on the network if you are in a different time zone or on the wrong date. Searching will be difficult. Check your computer's date and time settings for accuracy, then try again.
5. Reinstall Steam
A full reinstall of Steam might fix the steam error code e84. This will fix any corrupted, damaged, or error, such as PS4 Error Code ce-34878 or missing system files that Steam needs to function properly and may be the source of your problem.
Conclusion
Every error has multiple paths. It could not be eliminated without knowing and cutting that route error tree. We have provided some fixes to eliminate Steam error code e84. Try this, and I hope you will fix it with ease.
Relevant Guides And Tips