When the Unsecapp.exe comes into your Task Manager, it might be a virus. Or nothing at all. But why does it consume so much of your disk space? This post will explain everything you need to know about Unsecapp.exe.
What is Unsecapp Windows 10?
Unsecapp Windows 10 is a process that runs in the background of your system, allowing it to maintain and monitor specific tasks. It is related to WMI Client, Windows Management Instrumentation – which can be found in Task Manager. This article will provide an overview of Unsecapp Windows 10, explain what it does and how to remove it if necessary.
The Unsecapp.exe process runs under the Windows\system32 folder. It is commonly used by software applications to monitor specific tasks on the computer, such as data collection, performance monitoring, hardware events, or application errors.
It helps ensure that all processes run smoothly and efficiently without issues or problems arising from background processes. The method also helps protect your computer from malicious activities as well as helps to keep track of system resource utilization, such as RAM or CPU usage.
What Do You Know About the Unsecapp.exe?
The unsecapp is a Windows feature that runs for Windows Management Instrumentation (WMI) subsystem. If this service weren't there on your PC, you wouldn't be able to run applications that need WMI support.
The WMI is a subsystem in Windows 7, 8, and 10. The service allows your system to interact with your Windows components and some particular programs. These components can also include system services and other user accounts.
Why is the Unsecapp.exe Service Running in the Background
When you buy your Windows computer, the Unsecapp.exe Service is installed. When an application requires access to the WMI subsystem, unsecapp will appear in your task manager. And this file extension is usually found in System32\wbem\ folder directory.
When this process suddenly starts running in your task manager, you have recently installed an application. The application would require access to the WMI subsystem, and your Windows will start this .exe service.
Is Unsecapp.exe Service Related to Avast Antivirus?
If you have recently updated your Avast antivirus program, then that can be why you see the Unsecapp.exe Service running. When you restart your computer, you see a new service adds up to the start-up again.
But this service is not related to Avast Safeprice, but the antivirus can use the service to communicate with other programs. Avast can also use the WMI service to fetch user data and start the unsecapp.exe if it is not running in the background.
Avast can start the WMI service during start-up as it starts itself up at that time. Apart from Avast, other popular programs can use the WMI components on your Windows. These programs may include Stream, various online video games, and some messaging applications.
Do You Have to Remove The Unsecapp.exe Service?
If you remove the unsecapp.exe service, your system can become unstable and won't work correctly. This is an essential Windows 8.1 component; some games and apps can stop working without it. And other apps can throw error messages or won't work correctly. You can only remove this file when it does not have the digital signature of Microsoft.
However, if you want to know if it is a virus or malicious component, follow the sections below.
How to Check if the Unsecapp.exe is a Virus or Not?
The unsecapp.exe is not a virus, but malware can change its name to unsecapp.exe anytime. To find out if the process has a digital signature of Microsoft or not, follow the steps given below-
Click on the Start button
Then type "Task Manager" in the search box
When you see the Task Manager option, click on it.
From your Windows 8/10, expand the task manager view and click on "more details."
Locate the unsecapp process
And right-click on the process
Then click on 'Open File Location
Now the file manager will show you the location of the file.
Then right-click on the file again
Click on the 'properties' of the file
From Properties, navigate to the 'Digital Signature' section.
Now you will have to check if the Microsoft Corporation digital signature is there in the file or not
The Microsoft Corporation digital signature will be there if the file is legal and proper. It verifies that you are dealing with the right type of file. So, if the file contains the digital signature, you have nothing to worry about and leave it as it is.
But if the file does not contain the signature, then it is not the original file. A malicious application or a website has inserted an Antivirus in your computer named Unsecapp.exe. So, if this is the case, remove the thing right now and scan your system for more possible viruses.
How to Remove a Faulty Unsecapp.exe File?
Sign in to your Windows computer with the admin credentials
Then go to the folder where your computer has saved the malicious ensecapp.exe file
Most likely, you will find it in the System32\wbem folder.
Select the malicious file and then delete it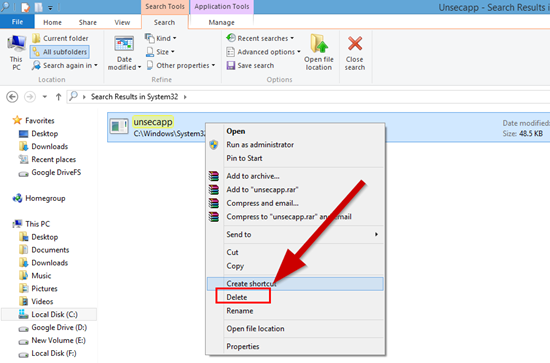 Scan your system for more possible threats
And then reboot your computer
Then go to the official Microsoft site and download the WMI utility
Then install the tool on your computer
Lunch the exe file and run it on your computer and follow the on-screen instructions
Now with the help of the instructions, download a fresh version of unsecapp.exe from Microsoft
These are all you need to do in this case. And after this, your system will have a clean version of the critical Windows component. And to make sure it works properly or not, run an antivirus to scan your PC. If there is a virus in it, your antivirus will alarm you about it. But this is less likely to happen.
Frequently Asked Questions (FAQs)
What is Unsecapp.exe and is it safe?
Unsecapp.exe is a Windows process that belongs to Microsoft Windows Management Instrumentation (WMI) Client. WMI is a set of specifications from
Microsoft
for consolidating the management of devices and applications in a networked environment, providing users with a single point of control over the entire system's configuration. Unsecapp.exe handles incoming requests to WMI service and routes them through the appropriate processing channels. 
The Unsecapp process runs continuously in the background as part of Microsoft's security infrastructure and is generally considered safe and necessary for Windows operation.
It can consume up to 20 percent of your CPU resources when running, making it an unnecessary burden on your system if you don't use WMI services regularly or need them.
In general, unsecapp.exe is safe if users are mindful of their actions and take the necessary precautions before executing them on their systems. When using this command, it's recommended that users back up all of their essential data first to avoid any potential loss or damage should something go wrong.
How do I know if Unsecapp exe is a virus?
If you are unsure if the Unsecapp.exe file you have encountered is a virus, there are a few things that you should look for and consider. The first step is to identify where the file came from.

Did you download it from a reputable source? If so, it could be legitimate software. It could also be malicious software, however, so it's important to double-check before running any unknown programs on your computer or device.

You can also check the file size of the Unsecapp.exe file in question and compare this with other known versions of the program to ensure that they match up; malware files tend to have significantly larger sizes than legitimate applications.

Finally, use an antivirus scanner such as Windows Defender or Avast Antivirus to scan for any potential viruses in the file before installing or running it on your system.
How can I tell if Unsecapp.exe is malware?
Unsecapp.exe is a mysterious application confusing computer users for quite some time. Many people are wondering whether unsecapp.exe is malware or if it's just a harmless application.
To help clarify this issue, it's essential to understand what unsecapp.exe does and how to tell if it might be malicious software. 
The first thing you should know about unsecapp.exe is that it can sometimes be present on your system as part of Windows operat
Cobra Driver Pack ISO For Windows [XP, Vista, 7, 8, and 10] Free Download in 2022 
ing systems, such as Windows 7 and 8, but also as a third-party program installed by other applications or programs on the system which can cause
windows 10 not responding
.
If you have noticed any suspicious activity on your computer after installation of unsecapp.exe, there is a strong possibility that the application could be malicious software in disguise.
What happens if I delete Service Host?
The Service Host process is one of the most critical components of Windows that allows you to receive asynchronous callbacks from various services. It is robust software that keeps your system running efficiently and smoothly. But what happens if you delete Service Host?

Deleting Service Host can have severe consequences on your computer, as it will disable the service and any associated programs or processes. This could lead to system instability, errors when running specific programs, or even complete system failure.

In addition, some programs may not be able to run correctly without the use of Service Host and may crash or freeze unexpectedly. Therefore, it is generally not recommended that you delete Service Host as it can cause significant damage to your computer system.
Conclusion
In conclusion, Unsecapp.exe is a critical system that provides secure communication services to other applications on a computer or device. Although it is considered a safe process, it can sometimes be identified as a virus and cause errors in Windows systems. Fortunately, users can take steps to check their system for malware and remove any malicious programs posing as Unsecapp.exe.
Relevant Tech Guides And Tips